Headlines
HHS Welcomes Principal Arce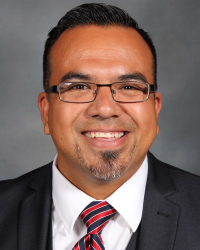 Heritage High School has a new principal this year! Frank Arce comes to HHS with a wide scope of experience at different schools. After teaching for close to ten years, he started his administrative career as an Athletic Director/Dean of Students here at PUHSD. He then went on to become an Assistant Principal and worked at both the middle school and high school levels in Lake Elsinore. He comes to us from Moreno Valley, having been an Assistant Principal there for a short time, and is now back to PUHSD--a full circle as he embarks on his journey as Heritage High School principal. Mr. Arce has a wife, Esperanza Arce--who is also a school principal--and four beautiful kids. Mr. Arce is proud to be our new principal and looks forward to establishing positive relationships with our students, our staff, and our community.
HHS Introduction Video
Classified Employee of the Year
Audrey Smith
Classified Employee of the Year
Described by colleagues as "the angel of Heritage High School", Audrey Smith is a steady, inspiring force on students that may not realize her impact until they have graduated and successfully navigated their tumultuous teenage years. Audrey's ability to help students consider their post-high school life—-regardless of their current life situation-—is a relationship-based example of focusing on college and career readiness. Audrey's 35-year career in education has no end in sight as many more students are poised to benefit from her expertise in everything from coordinating college fairs and scholarship application workshops to creating a positive, encouraging environment for all students.
The mission of the Perris Union High School District is to provide quality educational programs and meaningful opportunities which encompass the intellectual, social, emotional, and physical aspects of all students within the district and which will enable them to become productive members of society.