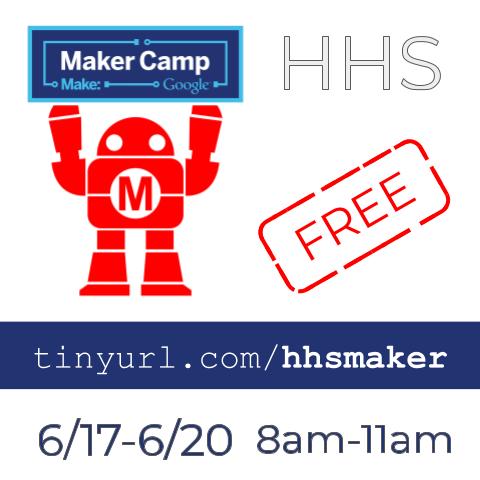 HHS MakerCamp 2019
Our 4th Annual Maker Camp will be at Heritage High School together for four days of creative projects this summer. A Maker Camp is a place where you will use materials to build things like egg crash test dummy cars, artistic masks, electronic jewelry, and more projects that combine design, engineering, and technology.
. . . . . .
Details
Cost: The event is FREE to all students and includes breakfast and lunch.
Location: Heritage High School 26001 Briggs Rd Menifee, CA. Ms Torres' Art room.
When: June 17, 18, 19, and 20. (Mon-Thu) 8am - 11am
Food: Breakfast service ends at 7:30 (show up early) and lunch will be served at 11.
Teachers: Ceara Torres, Jedidiah Butler
If you'd like to attend Maker Camp, please fill out the form. tinyurl.com/hhsmaker
We will be contacting you within 48 hours of filling out the form.
Thank you!
. . . . . . . . . . . . . . . .
Hola alumnos y padres,
Nuestro 4º Campamento Anual de Creadores se unirá a Heritage High School durante cuatro días para proyectos creativos este verano. Un Campamento de Creadores (Maker Camp) es un lugar donde usarás materiales para construir cosas como autos de prueba de choque de huevos, máscaras artísticas, joyas electrónicas y más proyectos que combinan diseño, ingeniería y tecnología.
Detalles
Costo: El evento es GRATUITO para todos los estudiantes e incluye desayuno y almuerzo.
Lugar: Heritage High School 26001 Briggs Rd Menifee, CA. Sala de arte de la Sra. Torres.
Cuando: 17, 18, 19 y 20 de junio (de lunes a jueves) 8am - 11am
Comida: el servicio de desayuno termina a las 7:30 (llegue temprano) y el almuerzo se servirá a las 11.
Maestros: Ceara Torres, Jedidiah Butler
Si desea asistir a Maker Camp, llene este formulario. tinyurl.com/hhsmaker
Nos pondremos en contacto con usted dentro de las 48 horas después de que haya llenado el formulario.
¡Gracias!