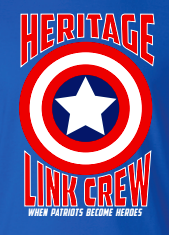 For Freshmen
Link Crew is a leadership program, a mentoring program and a support program. Link Crew partners Freshmen with Junior and Senior leaders who support, encourage, and connect with their Freshmen team to help them be successful in high school. These Leaders plan social events throughout the year that are mostly hosted after school from 3:15-5:00pm. They also lead Academic follow up lesson in the Career and College Foundations classes. Our students' only complaint is that the Sophomores aren't in Link Crew as well! Ask your Freshman about their Link Crew events.
Link Crew Social Event Dates
August 22 - FReshman Movie Night
September 4 - Back to School Night 5:45-8pm
September 6 - Freshman Tailgate
October 17 - Freshman Fall Festival
November - Food Drive (all month)
December 11 - Cocoa and Cram
January 23 - Movie Night
February 14 - Heart Attack
March 25 - Ice Cream Social
April 30 - Game Night
Link Crew - Freshman Friday Tutoring
TBA
Link Crew leaders will be available from 8-9am on the following Fridays to assist freshmen with thier school work, organization, binders, etc.
For Link Leaders:
Applications for Link Crew Leadership positions are in March of every school year. Students are required to submit an online application to be a part of the program. Other mandatory commitments are: May Development Day (during school hours), three days of Summer Training, Link Crew after school events, various Friday morning tutoring sessions, and enrollment in the Link Crew Leadership Class and/or enrollment in a College/Career Foundations class. We are looking for all different types of students to be leaders. We just want students who genuinely want to help Freshmen tranistion into high school like your Link Leader did for you! [Apply to join Link Crew for 2019-2020 school year] Appliction will open in March
If you have any questions regarding the Link Crew Program, please feel free to email the Coordinators.
Ben Washburn - Freshman Counselor - ben.washburn@puhsd.org
Emma Bennett - Freshman AVID/Math Teacher - emma.bennett@puhsd.org
Renee Garcia - Activities Director - renee.garcia@puhsd.org